ABOUT Skytech Equipment
Halewich family business grows with community
Myron and June Halewich, along with their four kids, Bill, Donna, Theresa, and Dale, are involved in a multi-faceted family business locally owned and operated in the Battlefords.
Myron Halewich, after being in the construction industry in the Battlefords since 1954 with his own father, William Halewich, branched out with his wife, June, to start 5H Holdings in 1981.
5H Holdings, as in 5 Halewich families, started operating as a construction development and management company doing business in Saskatchewan, primarily, but not limited to, the Battlefords.
Later that year, the company branched out into a provincial wide insulation business, known as Westgate Insulation, with its head office in North Battleford and another in Saskatoon for a period of four years.
With the acquisition of aerial equipment such as boom lifts and scissor lifts as well as skid steers and forklifts that were required for construction work, 5H Holdings further developed into an equipment rental and sales company now known as Sky-Tech Equipment, managed by brothers Bill and Dale. Sky- Tech has expanded over the years from its original fleet of aerial lift equipment to include things such as reach forklifts, loader/backhoes, mini excavators and packers. With its main office in North Battleford, Sky-Tech has approximately 320 pieces of equipment in its fleet.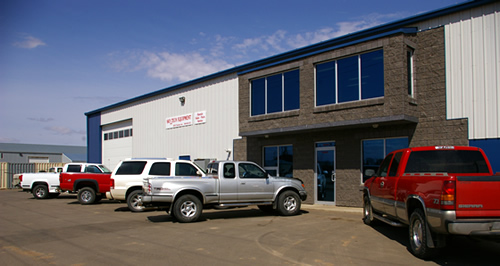 As the different branches of the company have grown, it became apparent that there was a need once again for expansion. In 2007, a new 12,000 square foot energy efficient commercial building was constructed at 10010 Thatcher Avenue, which is home to the offices and shop for Sky-Tech Equipment.
In the spring of this year, construction was started on another commercial building located next door at 10014 Thatcher Avenue, Parsons Industrial Park. This property is nearing completion and is currently approximately 50 per cent leased.
This fall, 5H Holdings acquired another property just down the avenue known as the former Highwaymen Truck Wash. Renovations are currently underway including a fully automated swipe card system complete with fleet cards for larger companies. The truck wash will become operational again approximately mid-November as the KMA Truck and RV Wash, under the management of Al Somers.
The Halewich family business continues to grow in the Battlefords, currently employing 15 people.
"We choose to make the Battlefords our home because it is a great community to raise our families in, and we see plenty of opportunity for growth and development here in the Battlefords"